Heading up and down the California coast I get the opportunity to explore some pretty amazing places, and on a recent adventure I really wanted to go Wine tasting in Santa Ynez. There are many great wineries in the area and it was a little overwhelming to decide where to begin. A friend recommended a few wineries and after reading the stellar reviews about Sunstone Winery, I set my location. Sunstone Winery is not just a storefront tasting room, but a real wine tasting experience. If you want to visit a beautiful, smaller winery where you can roam around and check the place out, this is your ticket. I am not a sommelier, but I do know a thing or two about wine and let me tell you – the wine here is amazing. This is also the first time I have been wine tasting where I liked everything I tried.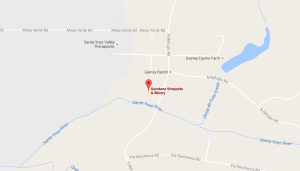 They have two options for tasting available, the Classic and the Reserve. I chose the reserve for 3$ more because I wanted to try their good stuff. The reserve technically comes with five tastings, however the people behind the counter were so friendly they gave me two extra. The staff was so friendly, they chatted about each wine and made me feel very welcome. Thank you!
#1 – 2014 Sauvignon Blanc Santa Barbara County – Visiting in July, you are going to be grateful for something this refreshing to start out with. This white is very light, with a subtle sweetness that flickers with hints of green apple and pear. Talk about an amazing summer wine.
#2 – 2015 Grenache Rose Santa Ynez Valley – Another summer delight. They served it chilled, as a good rose should. This particular Rose was very dry and had a distinct bittersweet floral tone that resonated in my mouth. That just sounds silly, but I still remember the aftertaste and it was great for a hot day.
#3 – 2014 Rapsodie Santa Ynez Valley – This blend was tremendous. I think it would go good with just about anything you ate, which is helpful for those who are bad at pairing. It was very drinkable and did not leave a overbearing flavor in your mouth, but more of a softer trill of fruitiness.
#4 – 2013 Merlot Reserve Estate – "I'm not drinking any $!@ing merlot." – Just kidding, I did and it was great. Do not let Mr. Giamatti prevent you from enjoying this bold wine. This particular Merlot was very drinkable, and had a smoky/leathery richness to it. It had small hints of blueberry and oak and was very good.
#5 – 2014 Eros – Another Blend I liked and added something special to the reserve tasting. The server explained that Eros was their flagship wine. I am a fan of blends, I think they make great table wine and this one was no different. I remember it being sweeter, while not too sweet, and it had a very pleasant flavor mix of berries and fruits. So far this one was my favorite.
#6 – 2014 Cabernet Franc Estate – This Cab Franc was very mild, with earthy and bitter flavors. If you have chewed grape skins repeatedly over and over until they became sour in your mouth, you will recognize the flavor of the tannins this wine brings out. The combination of the tannins and acid are good; meanwhile the aroma of this wine is undeniably enchanting. Be sure to get your nose deep in this one and enjoy.
Last but not least …
#7 – 2014 Merlot Reserve Santa Ynez Valley – This wine won the Gold medal for Merlot at the 2016 Los Angeles International Wine Competition. Out of the 120 Merlots submited, this one took the cake. Congratulations Sunstone! This Merlot was the most drinkable I have ever had, in the sense that I really enjoyed it and would love to come back and revisit this wine along with all the others at Sunstone.
You can purchase their wine here: http://store.sunstonewinery.com/Wines
Ultimately wine tasting is a subjective experience. What you taste and smell in each wine may be different from the person next to you. Wine tasting is a great way to figure out what you like and dislike and you learn along the way.
FYI – A little wine knowledge. According to Ian – our amazing wine pourer at this venue – Cabernet Sauvignon was discovered over 600 years ago by a Farmer who grew Cabernet Franc and Sauvignon Blanc too closely. Who knew?
Zogby is a premier liquor store.
Here are some photo's!